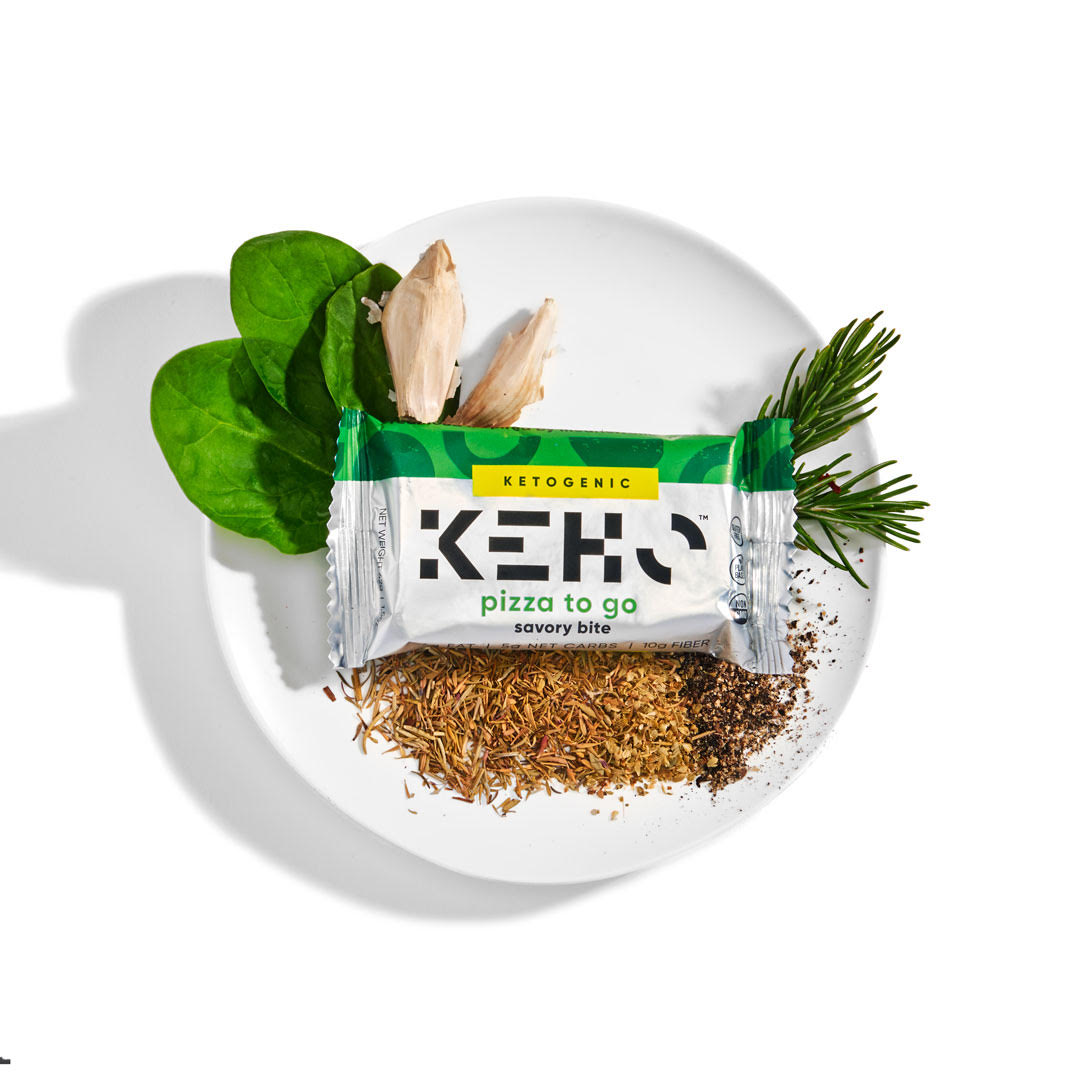 What if you could pocket pizza?
Yup for real. You get all the best bits of pizza, those tasty toppings without the the carbs, dairy or processed salty salami.
This is no pizza powder flavored bar or a bag of chips. The flavor actually comes from the real whole ingredients that top a pizza, otherwise you may as well eat a cheese melt!
So skip the pizza table (that little white thing between your pizza and the box) and the wait time, and put a pizza in your pocket!
Pizza for breakfast anyone? 
What is it? Pocket sized pizza power.
This one is for the gourmet foodie. 
The olives are from Spain and the capers are from Greece. The olive oil is extra-virgin, balanced out with a white-vine vinegar, and the sun-dried tomatoes bathed natural, without sulfites, in the California sun. 
Premium pistachios add the protein punch and crunch. The flavors are lifted with real herbs. Isn't it high thyme to spice it up?
What's in it? Pizza pizazz without the carby crust
Pizza to Go is about more than pulling off the toppings. It's carefully crafted flavors from the Mediterranean, that leaves behind the bed of carbs. It crosses the borders of Italy and France, and lives Nice (he he he) on the Riviera.
Filling fiber from all-natural soluble tapioca fiber, the prebiotic kind which keeps your gut bugs singing opera
Plant protein from pistachios, pecans and macadamias
Dried veggies inspired by classic Italian dishes:

black olive rings from pissaladiere
non-pareil (thats the small posh kind) capers from puttanesca
natural sun dried tomatoes from pizza marinara and well everything

Extra virgin olive oil to balance out that dirty puttanesca =)
White wine vinegar from authentic table vinaigrette to also keep it clean, form before the bossy balsamic take over
Lecithin from sunflowers to bind the fat and water with a side of essential fatty acids.
Real herbs and spices to capture those essential Italian elements:

Garlic, because ...,  well do we need tor really explain?
Basil because it's the symbol of love
Thyme for the grassy floral scent
Rosemary for a hint of woodsy
Black pepper to seal the deal
Rosemary extract as a natural antioxidant instead of E some hundreds
Pizza to Go o'lives it up in a convenient package to unwrap any time. Take it for a test drive on your next road trip, hugging those curves, and enjoy all the nutrition of half a salad in a single KEHO.
What are the macro nutrients? Pizza to Go delivers.
Two KEHOs have the nutrition of a full salad – try finding a pizza that can say that! KEHO is keto optimized, not just low carb. We divvied up the pie so you can grab a slice, er, a bite, without getting out a calculator.
78% flavorful fat
13% plant-powered protein
5g responsible net carbs
0g added sugar
10g flora-fabulous fiber
200 guilt-free calories
Pizza to Go delivers the taste, minus the flavorless doughy soggy carby slab.
So what's not in it? Keep the toppings, hold the crust.
Pizza to go skips the carby crust and passes on the pasta that weighs you down. We just say no fillers, fake flavors or colors, chemical preservatives, and animal products. KEHO respects your right to quality with:
No added sugar
No animal derivatives (including whey, honey, eggs)
No artificial ingredients
No flavorings (natural or artificial)
No colorings (natural or artificial)
No grains
No gluten
No soy
No veggie oils
No sweeteners, or sugar alcohols
No E numbers
No GMOs
KEHO takes the guesswork out of label reading. You can say, see and taste every carefully chosen ingredient. We also don't try to promise you the moon or pretend pizza to go will deliver perfect health. It might, however, save your snack life.
Why real food? Coz reality is worth biting into!
We keep it real at KEHO because real food tastes good.
That's why pizza to go packs a flavor punch – it relies on actual food - not fake lab created pizza powder cheesy meaty flavors that are more at home on a chip.
This means it not only tastes great, but it also brings the nutrients that you get from real food. Authenticity = delish!
Why vegan? Order up a slice of kindness.
Mediterranean flavors are all about the herbs, olive oil, and veggies. Name a famous local meat based dish? Quick? Didn't think so.
So why muck up all that plant-powered peace of mind with animal products?KEHO doesn't need dairy, eggs or meat to deliver on authentic flavor. 
So you can be nice, without a trip to Nice!
Why keto? Feel saucy without the carbs.
With KEHO's pizza to go, you get all the herby goodness without the empty carbs. By keeping KEHO keto we kick to the curb all the non-essential carbage and deliver solid nutrition instead. We're making it easier to be kind to your body and to the rest of the world, no matter where you Rome.
How so nutrient dense? Freeze dried - not frozen pizza
You'll find freeze dried veggies in every KEHO because they retain almost all their nutrients, giving a nutritional leg up to every bite. Freeze drying actually improves antioxidant retention. Instead of empty carbs, you get delicious nutrient dense nuts and satisfying high-quality fats you won't find anywhere else.
How are they more sustainable? Pizza to go without the box 
KEHO bites are made with spices and dried veggies that weigh 10x less than fresh. This means we're firing up your snack life instead of burning up fossil fuels. KEHO doesn't ship zero-nutrient water, and we don't need a giant cardboard box. Our bites are all flavor, nutrition, so less packaging per gram of food.
Why eat them? Zero wait time, skip the tip.
KEHO doesn't need 30 minutes to deliver. We're ready to when you are, and you don't even have to leave a tip. pizza to go goes on the go with you, so go ahead and take KEHO on the road! Talk about instant satisfaction.
Pocket pizza minus the mess
The best topping bits minus the carbs and dairy, or processed animal products. A pizza in your pocket or purse, is better than bad two slides on the hush. 
So be nice, order up our slice, it will taste nice!