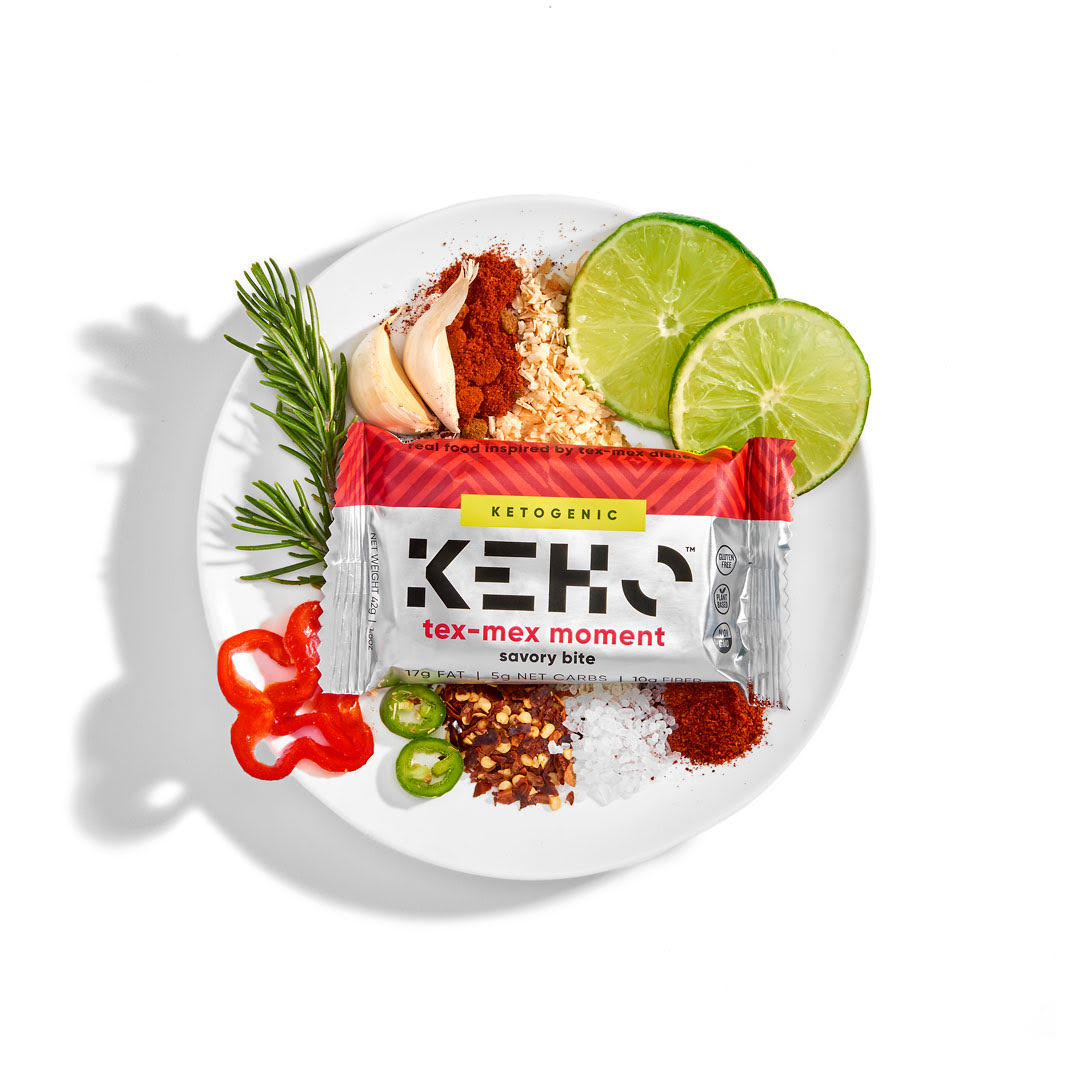 No time for a taco truck? 
Tex Mex Moment is your smoky spicier sidekick. It's not hot except for its looks.
We love eating yummy things in wraps: burritos, tacos, quesadillas – but not the carbs that come with the package. So we took those fave ingredients and put them in a new wrapper, of the fancy foil kind.
Yummy any moment.
What is it? Smoke without the fire.
A Tex Mex Moment is full flavor with warmth. This KEHO features bold, vibrant veggies like red bell pepper, sweet corn, black beans and mushrooms, all dressed up with avocado oil. It has a rich smoky flavor with a touch of heat from different peppers, tempered by tomatillo and herbs.
What's in it? Max Yum.
Tex Mex Moment was inspired by your favorite Tex Mex dishes. It's not any one dish, but a fiesta of favorites – minus the bad carbs.
Natural filling fiber from the cassava root (the soluble flora-feeding prebiotic kind – that means happy gut bugs!)
Plant protein from the yummy higher fat pecans and macadamias, with the Tex Mex super snack of pepitas (seeds from our fave squash, pumpkin!) to pump up the protein.
Dried veggies inspired by our Tex Mex all-star favorites:

red bell peppers from salsa
chipotle from chilis
sweet corn from Mexican street corn, elote
black beans from well, black beans!
mushroom for más protein
Onion flakes for a dash of pico de gallo

Yummy oils from avocado, yup, found for the first time in a snack bite!
Lecithin from sunflowers, holding together the water and fat and adding essential fatty acids.
Real spices for smoky taste with a touch of heat:

Sea salt coz it's more sustainable than the Himalayan kind
Cumin as the core favorite in Tex Mex chilis
Garlic for a lick of pungent edge
Lime for some olé!
Smoked paprika (yeah ok it's more of a Spanish touch, but it's smoking!)
Chipotle pepper for smoke that does come with a touch of heat
Red pepper flakes for soft fire
Tomatillo to take on that heat and temper it down
Chili as a cooler note to round out those warm flavors
Oregano to guard all that pepperiness in all forms
Rosemary extract as a natural antioxidant instead of E some hundreds
So pick up a pack packed with plenty of peppers. It's not hot, but you can stay out of the kitchen and focus on being smooooking hot.
What are the macro nutrients? Let's taco about it.
They say a well-balanced diet is a taco in each hand. We'd say it's a KEHO in each hand. Two KEHOs has the nutrition of a full salad. KEHO is keto optimized, not just low carb. We did the macro math, so you can take a moment.
75% siesta satisfying fat
16% plant protein
9% net carbs
0g added sugar
10g flora-loving fiber
210 yummy calories
It's everything you love about Tex-Mex without the carbs or meats or dairy. A flex tex vex mex mash up.
So what's not in it? No chip-ton of carbage.
No fillers, just food. We took the good stuff and left out the corny taco, floury tortilla or a carrying chip. You won't find any of that carbage in KEHO.
Nope, KEHO won't get a bad wrap.
No added sugar
No animal derivatives (including whey, honey, eggs)
No artificial ingredients
No flavorings (natural or artificial)
No colorings (natural or artificial)
No grains
No gluten
No soy
No veggie oils
No sweeteners, or sugar alcohols
No E numbers
No GMOs
KEHO isn't trying to teach a chemistry lesson or test your vocabulary. Just real straight talk and ingredients you can see and say.
We also don't add magic ingredient or pixie dust benefits to our packs. Nor do we make health claims.
Why real food? Our ingredients don't have a wrap sheet.
Junk food with shady ingredients that trick us into thinking it tastes good has been making us sick for too long. That's why KEHO uses only real food, and we let our ingredients speak for themselves. Just because it's a snack or a mini meal doesn't mean it can't be nutritious too!
Why vegan? Only plants can add spice!
What makes Tex Mex cuisine so delish? (Hint: it's not the animal products!) KEHO has captured the smoky, spicy essence of your favorite Tex Mex dishes and created a planet-friendly, cruelty-free mini meal for conscious crunching.
Why keto? The nice without the rice.
Try as you might, you won't find an essential carbohydrate. Keto does away with the non-essential carbage and focuses on true nourishing food. But trying to find keto on the go can be a challenge in a carb-filled world. KEHO is changing up the game and putting the focus back on the quality fats and protein that are kinder to our bodies.
How so nutrient dense? A freeze-dried fiesta!
KEHO uses freeze dried veggies because they retain almost all their nutrients. Freeze drying actually improves antioxidant retention. We replaced the carb-laden fillers of rice and tortillas with nutrient dense nuts and high-quality fats, making your Tex Mex Moment quite possibly the most nutrient dense snack on the market! Now that's worth a salud!
How are they more sustainable? The spice is light.
KEHO bites are lightening up the shipping process. Spices and dried veggies weigh 10x less than fresh because the water has been removed. Instead of shipping zero-nutrient water, we ship your Tex Mex Moment with only the savory essentials. Burn fat, not oil!
Why eat them? Faster than a food truck.
Ready to get your spicy on? So is Tex Mex Moment. No lines, no waiting, no mess, and no clean up. You can stay on schedule, within your macros, and have your Moment, too.
KEHO's got tex mex down, not all wrapped up
Set your Tex-Mex craving free of its tortilla wrapper and bite into a Tex Mex Moment. You can skip the trip to the taco truck and have a moment no matter where you are. KEHO's the new unwrapped wrap in town, and we aren't shy about our savory spice.
Now is the moment to "add to cart" and live every day like it's taco Tuesday. Keep on trucking.