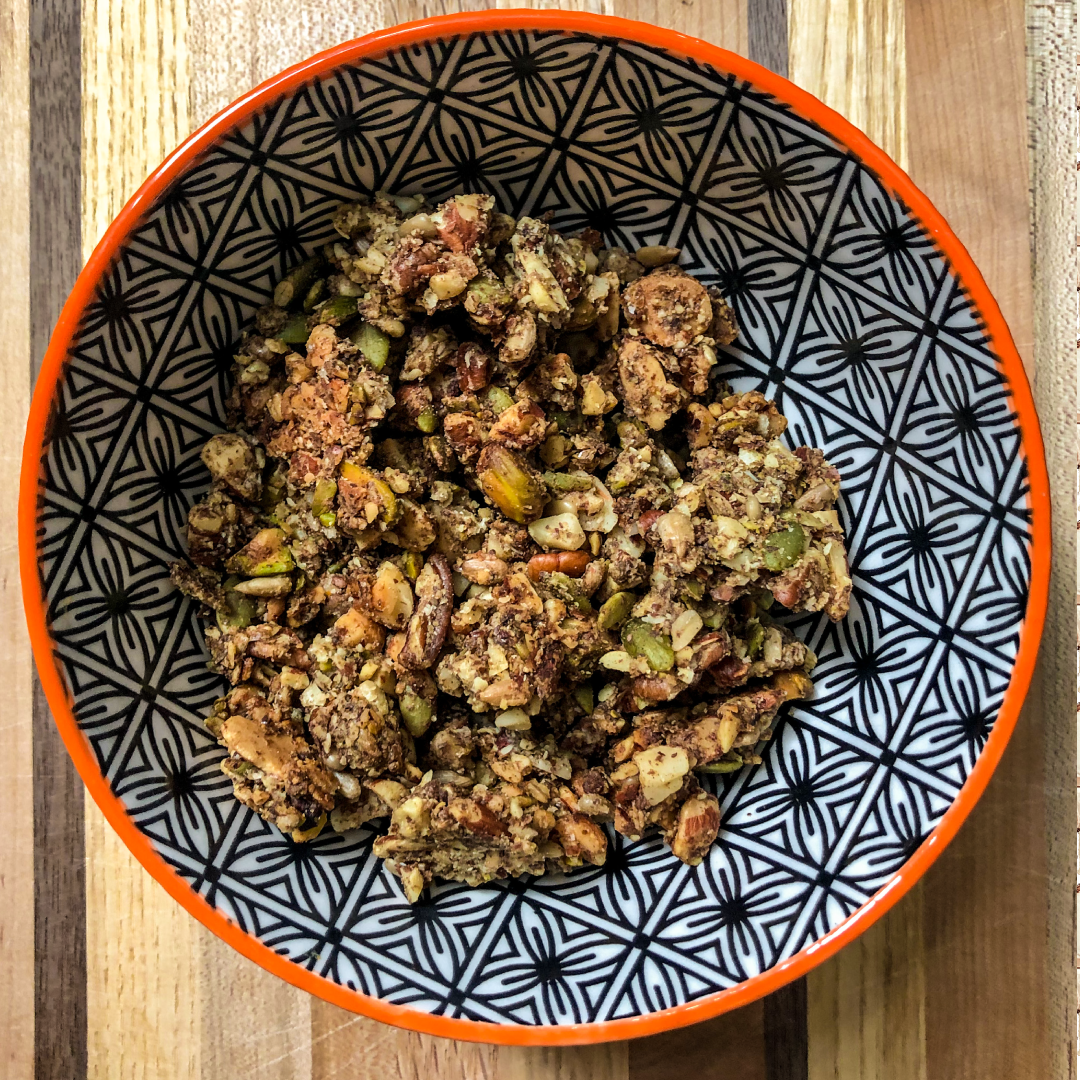 Yeah we know - you've tried grain-free granola, only to realize it may not have those carbs but it has honey (!) or maple syrup (!!) or it has artificial sweeteners, leaving you with the bitter after taste of erythritol. We did something different. We went agains the grain, skipping them, including all forms of sugar, fake or natural, and instead we added butter - you can choose plant or animal-based - BOOM!
Free yourself from the carbs, not just the grain! Easy keto (and vegan option)!
INGREDIENTS
1 cup almonds 
½ cup pistachios 
1 cup pecans or ½ cup pre-chopped pecans 
1 cup macadamias 
⅓ cup pumpkin seeds 
⅓ cup sunflower seeds 
½ cup golden flaxseed meal 
½ cup gluten-free oats 
2 pasture raised egg whites, or if vegan, a vegan egg substitute or chia egg (2 tbsp chia seeds + 6 tbsp water)
¼ cup grass fed butter, the vegan kind if preferred melted
1 tsp vanilla 
2 tsp cinnamon
1 tsp nutmeg
TOOLS
measuring cups + spoons, knife, rubber spatula, medium mixing bowl. small mixing bowl, baking sheet, foil, oven mitts, food processor, oven
DIRECTIONS
Preheat the oven to 325 degrees. Line a 9"X13" baking sheet with foil.
Pulse almonds and pistachios in a food processor till broken up. There should be some small and some larger pieces at the end.
Add in pecans and macadamia nuts. Pulse till combined. 
Add pumpkins seeds, sunflower seeds, flaxseed meal, and gluten-free oats. Pulse till combined. The mixture should consist of smaller and larger pieces of nuts + seeds. Be sure to not over-process.
Add mixture to a medium-sized mixing bowl. Add egg whites, use a rubber spatula to coat the mixture thoroughly. 
Combine melted butter and vanilla in a small bowl, then add to nut + seed mixture. Mix to combine with a rubber spatula. 
Add cinnamon and nutmeg. Mix to combine with rubber spatula. 
Place mixture on the pre-lined baking sheet. Press down to an even thin layer on the sheet. The whole 9"X13" sheet should be covered.
Bake for 18-20 minutes or until the corners are brown
Cool granola completely before breaking into pieces and storing. 
Notes:
- Granola will come out of the oven relatively soft and will harden as it cools.
- Cinnamon and nutmeg are optional.